Description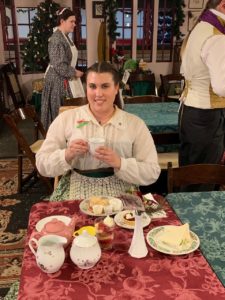 Join us for a special late night tea to cheer in the New Year! Before the clock counts down and the fireworks begin, take a moment to reflect on the past year as you sip on a warm cup of tea and sample our delectable desserts. Embrace the warmth and joy of the holiday season with a traditional English tea in Dickensian London.
We will be serving scones with a choice of special "Curds with a Kick," brought to you from Two English Ladies. These curds are available one night only as a way of toasting to new opportunities and celebration.  An assortment of tea sandwiches will be served, as well as a special English bread and butter pudding prepared with amaretto. Don't miss the opportunity to create a special memory leading you into the new year.
Seating is family style and is limited. Reservations must be made at least one day in advance of your visit to Winter Fest OC. We cannot accommodate same day online reservations.
Winter Fest OC tickets are not included. To purchase Winter Fest OC tickets, please click 
here.
When you make your reservation you will leave a $10.00 per person deposit. The deposit of $10.00 will be applied to your final bill.  The deposit is non-refundable if your reservation is cancelled within a week of the date you reserved.
Reservations may also be made at the Dickens Village at Winter Fest OC on the same day as your visit by coming to the shoppe and checking with the hostess to see if there is space available.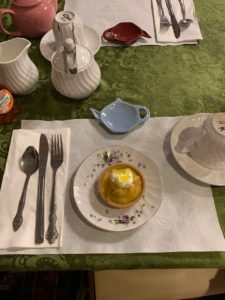 Curds with a Kick – Only available to our 21 and over guests
Flavors:
Lemon with vodka
Lime with tequila
Orange with orange Liqueur